FedEx Corp stunned investors a week ago by slashing its annual profit forecast, sending the US stock down the most in 21 years. Job cuts may be next at the shipper, a proxy for the US economy.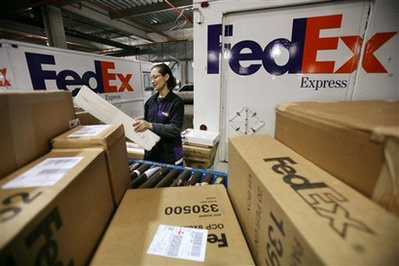 Rosa Santiago sorts packages before loading them onto delivery trucks at the FedEx Express Station Monday, Dec. 15, 2008 in New York. [Agencies]
  With the recession deepening, the second-largest package delivery company must trim labor costs, speed retirement of older jets and halt expansion of its FedEx Office printing shops, said Dan Ortwerth, an Edward Jones &Co analyst.
  The Memphis, Tennessee-based company may say today in its quarterly earnings report that US express and freight volumes fell at least 10 percent amid the longest US slump in a quarter-century, Ortwerth estimates.
  "Even in a best-case scenario, they're still going to suffer a lot," said Ortwerth, who is based in St. Louis. "FedEx is a premium services company and a transportation company, and both of those sectors get hit badly in an economy like this."
  He still recommends buying the stock, because he says it is undervalued and package demand will rebound when the economy recovers. FedEx has tumbled 29 percent this year, compared with a 38 percent drop for the Standard &Poor's 500 Index. The shares rose $3.18, or 5.3 percent, on Tuesday to $63.39 in New York Stock Exchange composite trading.
  No holiday forecast
  FedEx and larger competitor United Parcel Service Inc both broke with tradition this year and didn't project peak holiday shipping volumes, saying the soft economy made forecasts too difficult. Higher fuel surcharges and pressure to trim costs have prompted some customers to switch to less-expensive delivery options, FedEx has said.
  FedEx's earnings projection last week of $3.50 to $4.75 a share for the fiscal year ending in May, down from as much as $5.25, suggests "unprecedented" declines in volumes, said David Campbell, a Thompson Davis &Co analyst in Richmond, Virginia.
  "If they're implying that, they should be doing something with costs," said Campbell, who also rates FedEx as "Buy".
  Profit for the year will be $4.37 a share, according to the average estimate of 16 analysts surveyed by Bloomberg. FedEx may say today that fiscal second-quarter earnings were $1.58 a share, according to 12 analysts surveyed, compared with $1.54 a year earlier. Spokesman Maury Lane declined to comment.
  Cuts underway
  Express air envelopes and packages account for about 64 percent of FedEx's total revenue, or $24.4 billion. Many of those items are sent on short notice, curbing the company's ability to forecast demand.
  "FedEx doesn't have visibility beyond Monday," said Art Hatfield, a Morgan Keegan Inc analyst in Memphis who rates the shares as "market perform".
  Chief Financial Officer Alan Graf told investors in September that bonuses and other variable compensation already have been pared, and that flight time for its jet fleet and labor hours were cut "significantly". FedEx's global workforce numbers about 290,000 people, including 13,000 contractors.
  Last week, FedEx Freight employees were told that 540 jobs would go, and more than 650 jobs were eliminated at the FedEx Office unit. FedEx is closing more than 35 Office retail stores and said in June it would add 70 locations in fiscal 2009, down from 300 the previous year.
  Parking planes
  Ortwerth suggested further trims to the payroll and shutting underperforming FedEx Office outlets. FedEx said in June it had a $696 million non-cash charge to write down the value of goodwill from the 2004 Kinko's acquisition, and changed the chain's name to FedEx Office.
  "FedEx realizes that by taking some pain and continuing to serve the customer, it's going to pay off in the long term," Ortwerth said. "I don't think there's anything about this downturn that changes their long-term prospects."
  FedEx also should accelerate plans to ground more of its inefficient Boeing Co 727s beyond the 5 slated for retirement in fiscal 2009 and 40 more over the next three years, Ortwerth said. The company has 80 of the three-engine jets in service, averaging 29 years old, according to the Ascend Online Fleets database. FedEx said its fleet totaled 672 planes as of August.
  The trick for management is to avoid drastic changes that would hamper the ability to win new business once the economy resumes growing, said Morgan Keegan's Hatfield.
  "You've got to be able to just ride it out, and that's what they can do," Hatfield said. "They can contain costs on the air side, try to run better operations at their hubs and cut back on white-collar hiring and slow planned spending." )
Source :
RedNet
[tags :
recession
bankrupt
collapse
retrenchment
financial
news
collapse
stagnation
economic
slowdown
financial collapse
world recession
global recession
layoff
job cut
]